check out my perzine Technicolor Polka Dot #1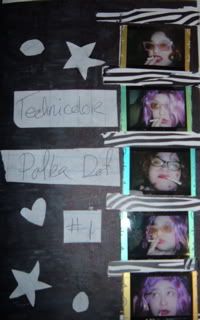 it is 53pgs**text heavy**$3 + 3stamps! <3 i also love to do trades....

the zine includes:
*a peice called "Jew Girl" about my experience growing up jewish in New York City**"Knock is a Lung" which is about my experience working on the staff of a literary journal & all the drama & learnings**DAY DAIRY i kept a diary for an entire day as part of a book project & didn't spare any details.**POETRY! rants! and more!

check out the website:
http://polkadotpress.bravehost.com/

polka_dot_press@yahoo.com

xposted

if its not okay to post this i understand if it gets deleted..